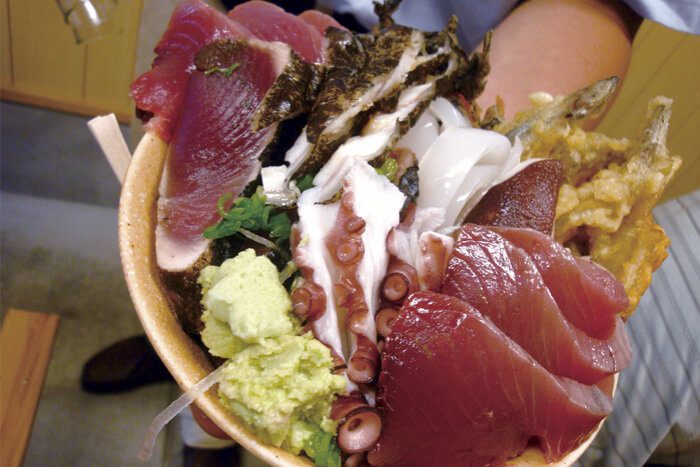 Let's make your original donburi in Kure Taisho Market which is famous for Kuroshio Current and skipjack fishing.
You can enjoy nice food including fresh fish, and the retro cityscape takes you back to the good old days of Japan. Moreover, local people are so friendly, and they are like your family.
Operating days

every Saturday and Sunday

Time

11:00~14:00

Location

Nakatosacho Kure Taisho Market(meet there•break up there)

Maximum participants

20 (Please contact us if your party of tourist is over 20.)

Minimum participants

1

Attendants

No (Staff will manage there.)

The deadline for reservation

18:00 of the day before
We visit there.

Let's listen to the explanation.

An explanation will be given at the reception area near the entrance. Tourists will receive 6 coupons for the 1000yen course. Then you will get donburi, miso soup and pickled vegetables.

Select ingredients

There is a ingredients corner for donburi such as sashimi, fried foods and fruits.

Let's dish up donburi!
What's the Taisho Market?
The market is in the middle of Kure. Women are enthusiastically selling fresh fish. This is the kitchen called Taisho Market in Kure.

You can see seasonal fish all year around. There are so many kinds of vegetables, fishes, fruits, and also homemade dishes in Showa street and Heisei street.

The sellers are very lively. Feel free to talk with them to find the fish you want.